BARRIQUE KIT of Mini Staves for Wine Making and Maturing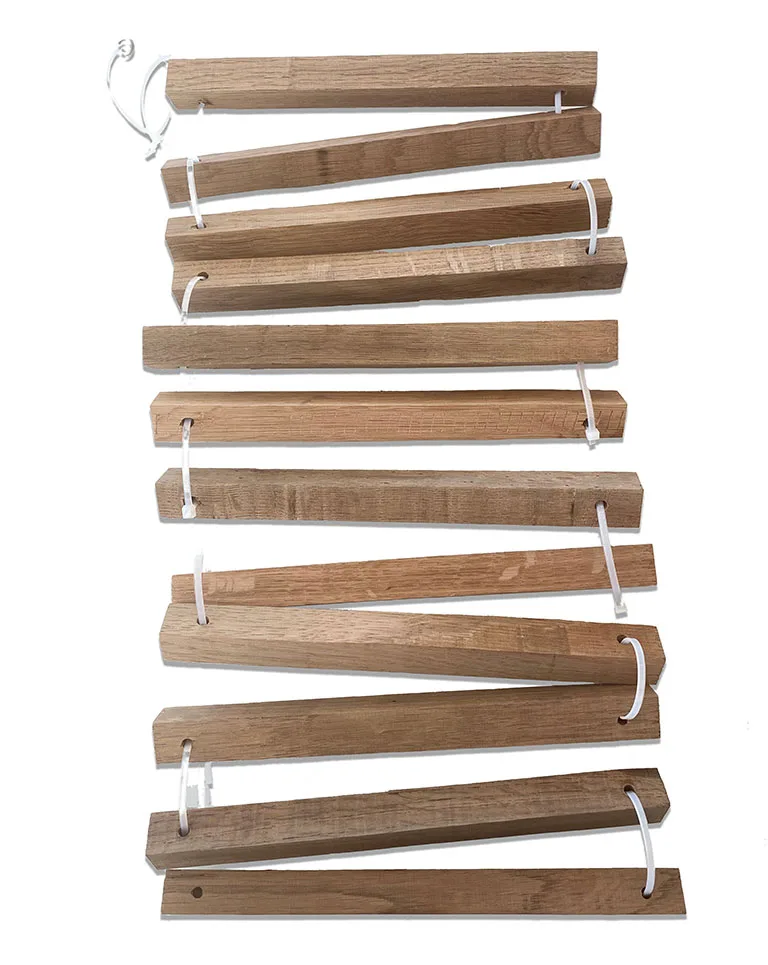 What is the oak barrel kit?
Known in oenology as "mini staves", the Barrel kit is a string of pieces of quercus oak wood which are slid into the barrel and hooked onto the bung. Connected to each other, the 24 mini staves inserted into the barrel do so increase the volume and structure of the wine in the mouth. An efficient alternative for wine making and maturing, it ensures the introduction of an aromatic richness to your blends.
Why use the barrel kit for wine making and maturing?
Whether it is in labor or in the purchase of new barrels, it is true that a wine barrel park can generate a huge financial investment. With the ambition of the same result for a lower cost, Oenochene proposes a Special Kit for Barrique which allows toincrease the number of years of use of your oak barrels.
How do I use the wood kit with my barrel?
It is a insert of small staves hung on each other. Slide it into the barrel and hook it through the bung hole for easy removal when needed. Vinification and ageing become simple yet effective. Your old barrel has found its aromatic potential !
What are the advantages of the barrel kit for wine fermentation?
The barrel kit allows you to reuse healthy old barrels that have lost their aromatic intensity,
The barrel kit is composed of an assembly of heaters to get as close as possible to the effect of the barrel,
The barrel kit is a cost-effective woodworking solution because it reduces the cost of creating a new cellar or special vintage.
Is the variety of toast possible with the barrel kit?
The kit is composed of a assembly of heatersThis will allow you to obtain a complex product, you have several toasts in the same barrel! The surface of wood corresponds approximately to 30 % of new barrel. You will get a very promising end product.
Be careful, however, when using a Barrel kit you use pieces of wood. Wooden pieces are authorized in all AOC, except for appellation decrees to the contrary. Therefore, before installing a barrel kit, it is recommended to consult the ODG of your appellation to know the evolution of the appellation decrees regarding their use.
Other information about the barrel kits
Our oak barrel kits are sold individually. Our recommendations for use in the barrels are :
Short contact time: 4 months

1 Kit / barrel